Global Conference 2017
LaTese Briggs
---
Speaker's Biography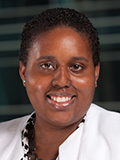 LaTese Briggs
Director, Center for Strategic Philanthropy
---
LaTese Briggs is the associate director of the Philanthropy Advisory Service at FasterCures. Briggs previously served as a pharmaceutical market analyst for Decision Resources, a Boston-based research and consulting firm serving the biopharmaceutical industry. In this capacity, she provided expert analytics on the state of research and clinical development, including research challenges, market drivers, and unmet patient needs in the infectious disease space. She is trained as a biochemist, having completed her doctoral studies at the University of Maryland Baltimore County and postdoctoral training at Harvard University/Broad Institute focusing on chemical biology and early drug discovery. She has authored several scientific articles and received a number of honors, including being named a Bill & Melinda Gates Millennium Scholar.

What keeps you motivated? Why do you do what you do?
"There is infinite value in waking up every day with a clear mission of achieving a faster cure for all and not just some, and tirelessly going to bat to work towards this important goal."
Panel
---