Global Conference 2017
Joseph R. Biden, Jr.
---
Speaker's Biography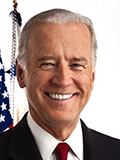 ---
As a Senator from Delaware for 36 years, Biden was a leader in facing some of the nation's most important challenges. As Chairman or Ranking Member of the Judiciary Committee for 17 years, he was recognized for his work on criminal justice issues, including the 1994 Crime Act and the Violence Against Women Act. As Chairman or Ranking Member of the Foreign Relations Committee for 12 years, Biden played a pivotal role in shaping U.S. foreign policy. As the 47th Vice President, Biden continued his leadership on critical issues and represented our country abroad. Under Biden's leadership, the Cancer Moonshot launched more than 80 new actions to speed progress in cancer prevention, diagnosis, and treatment and worked with Congress to authorize an additional $1.8B investment in cancer research. Biden oversaw the implementation of the American Recovery and Reinvestment Act and chaired the Middle-Class Task Force. In January, President Obama awarded Biden the Presidential Medal of Freedom, with Distinction--the nation's highest civilian honor.
Panel
---