@IF> Son of a Gambling Man: My Journey from a Casino Family to the Governor's Mansion
Bob Miller, former governor of Nevada
Moderated by Joel Kurtzman, Milken Institute senior fellow; publisher, the Milken Institute Review

December 3, 2013 @IF>
4:30 p.m.-6:00 p.m.
Santa Monica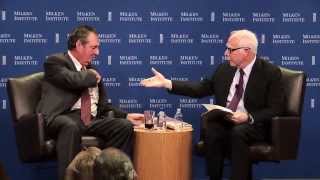 | | |
| --- | --- |
| | click image above to play video |
Early on, Bob Miller's dad was a Chicago bar owner and bookmaker who wouldn't allow his son to own a deck of cards or a pair of dice. Eventually, the son became the longest-serving governor of Nevada and played a prominent role in bringing Las Vegas into the modern era. That personal history is chronicled in Miller's autobiography, "Son of a Gambling Man: My Journey from a Casino Family to the Governor's Mansion." It also tells the tale of Las Vegas' transformation "from a place run by the mob," as Miller put it, to a mega-destination not only for gamblers but family vacationers and some of the world's most reputable and successful corporations.
In this Milken Institute Forum, moderated by Senior Fellow Joel Kurtzman, Miller will talk about his many roles in public life and what he accomplished as governor of this unique state, including regulating the gaming industry, advocating for victims' rights and resolving tensions in Las Vegas' communities. Nevada Sen. Harry Reid is a fan. "Governor Miller has unique insight into the forces that have contributed to the growth and vitality of Las Vegas over the last half century," the Senate majority leader wrote about the book.
| | |
| --- | --- |
| | Bob Miller is Nevada's longest-serving governor, holding office from 1989 to 1999. From police officer to district attorney and governor; from statesman to champion of economic development through environmentally mindful tourism; from advocating responsible gaming regulation to elevating the rights of people victimized by crime and protecting children from exploitation, Miller has a diverse and lauded professional career and an equally spirited sense of community. Today, he sits on the boards of Wynn Resorts and International Game Technology. His son, Ross, is in his second term as Nevada's secretary of state. |
| | |
| | Joel Kurtzman is a senior fellow at the Milken Institute, where he is responsible for the Senior Fellows research program. He is also a board member of the Wharton School's SEI Center for Advanced Studies and MIT's Sloan Management Review, editor-in-chief of the Korn/Ferry Institute's Briefings on Talent & Leadership and founder of Strategy + Business. He was editor-in-chief of the Harvard Business Review and business editor and columnist at the New York Times. Kurtzman has written 21 books on business, leadership, risk and economics. His latest book, "Unleashing the Second American Century," will be published in January. |
| | |
MI Video Highlight
Global Conference 2014
Leaders on Leadership: Howard Marks, Janet Napolitano, Steve Wynn and Michael Milken on long-term thinking in business, government, education – and life.