Global Conference 2012
Raymond McDaniel Jr.
---
Speaker's Biography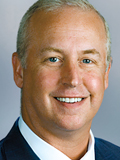 Raymond McDaniel Jr.
Chairman and CEO, Moody's Corp.
---
Raymond McDaniel Jr. is chairman and CEO of Moody's Corp., responsible for its activities and its two operating divisions: Moody's Investors Service, the credit rating agency, and Moody's Analytics. During his tenure, McDaniel has helped lead the company to record levels of financial performance and implemented important enhancements to Moody's ratings practices. Some of these initiatives include growing the core ratings and research business globally, implementing international expansion and new products, and improving professional practices in the ratings business by enhancing credit policies, rating committee processes and credit research capabilities. He began his Moody's career as a senior analyst in New York. McDaniel holds a law degree from Emory University and a bachelor's degree in political science from Colgate University. He was admitted to the Bar of the State of New York in 1984 and is a member of the board of John Wiley & Sons Inc. and the National Council on Economic Education.
---