Global Conference 2010
Chris McNeil Jr.
---
Speaker's Biography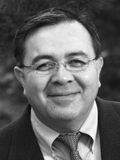 Chris McNeil Jr.
President and CEO, Sealaska
---
Chris McNeil Jr. is President and CEO of Sealaska Corp., which operates businesses in forest products, wood products, financial markets, information technology, plastics injection molding and manufacturing, machining and fabrication, environmental remediation, global logistics and construction aggregates. Sealaska is owned by more than 20,000 tribal members of Tlingit, Haida and Tsimshian descent and employs more than 1,700 people worldwide. A member of the Tlingit and Nisga'a nations, McNeil has held a variety of positions at Sealaska, including executive vice president, general counsel and board member. He currently serves as vice chairman of the Indian Country Renewable Energy Consortium. He was awarded the Henry Roe Cloud medal in 2008 from Yale University and was named the Alaska Federation Citizen of the Year in 2007. McNeil received a J.D. from Stanford University, a master's degree in political science from Yale University and a bachelor's degree from Stanford University.
---