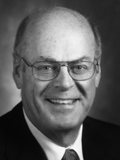 Robert "Steve" Miller
Chairman, MidOcean Partners; former Chairman and CEO, Delphi Corp.
Robert "Steve" Miller has been Chairman of MidOcean Partners since 2009. Before joining MidOcean, he was chairman and CEO, then executive chairman, of auto-parts giant Delphi Corp. He has held top leadership posts at many companies, including Federal-Mogul Corp., Bethlehem Steel, Waste Management and Morrison Knudsen Corp. Previously, Miller worked at Ford Motor Company and at Chrysler Corp., where he led the financial negotiations with 400 bank lenders and the federal government that resulted in the 1980 federal bailout package that saved Chrysler. After leaving Chrysler, Miller joined investment bank James D. Wolfensohn Inc. as a senior partner, and served as an advisor to Olympia & York, a privately held real estate firm. He is currently a director of Symantec Corp., American International Group Inc. and United Airlines. Miller received a bachelor's degree from Stanford University, a J.D. from Harvard and an M.B.A. from Stanford University.