Conversation with Edmund Phelps, Director, Center on Capitalism and Society, Columbia University 
November 6, 2013
5:00pm - 7:00pm
Santa Monica
Description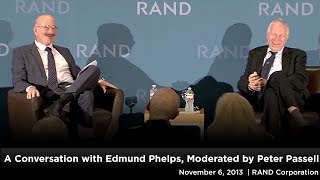 click image to play video

How do economies, and individuals, thrive? It's largely a matter of values and motivations, in the view of Nobel laureate Edmund Phelps. At this private Milken Institute event, presented in partnership with RAND Corporation, the renowned economist will offer a sweeping argument about what makes nations prosper and why those sources of affluence are in jeopardy. That argument fills the pages of Phelps' new book, "Mass Flourishing: How Grassroots Innovation Created Jobs, Challenge, and Change."
Phelps credits the Western world's prosperity to what he terms "modern" values, such as the desire to create, explore and meet challenges. That explosion of innovation and productivity gave rise to not only unprecedented wealth, but "flourishing"--meaningful work, self-expression and personal growth. Yet the West's vigor is waning, threatened, he believes, by the return of values that stifle individual aspirations. Phelps asks whether industrialized nations will recommit themselves to modernity, grassroots dynamism and widespread personal fulfillment, or will only a few in those societies flourish.
Peter Passell, editor of the Milken Institute Review, will moderate.
| | |
| --- | --- |
| | Nobel Prize-winning economist Edmund Phelps is director of the Center on Capitalism and Society at Columbia University as well as dean of New Huadu Business School at Minjiang University in Fuzhou, China. His work attempts to put "people as we know them" back into economic models, accounting for the incompleteness of their information and studying how their expectations affect the market. He began his career as an economist at the RAND Corporation. His newest book is "Mass Flourishing: How Grassroots Innovation Created Jobs, Challenge, and Change." |
|   |   |
| | Peter Passell is editor of The Milken Institute Review, the Institute's economic quarterly. He joined the Institute as a senior fellow after eight years as an economics columnist for The New York Times. He previously served on the Times' editorial board and was an assistant professor at Columbia University's Graduate Department of Economics. Passell's research interests include international finance and trade, economic history, and the economics of crime. He received his Ph.D. in economics from Yale University. |
|   |   |
To join the Associates or learn more about the program, please contact Sarah Sandler at ssandler@milkeninstitute.org or +1 (310) 570-4613.
---