Blockchain: Not for everyone?
Juniper Research published a white paper covering some of the key characteristics that determine whether a company should pursue blockchain development. Industries that stand to benefit most from blockchain technology share some, or all, of the following characteristics: a need for transparency and clarity in transactions, a current dependence on paper-based legacy storage systems, and a high volume of transmitted information. With this in mind, the paper provides an assessment of blockchain's potential across nine key areas to determine "best fit." In addition, "We would argue that, when challenges are measured against the scale of the opportunity, Automotive, Financial Settlement and Land Registry emerge as particularly interesting prospects." With regards to healthcare—a prior FinTech in Focus highlighted the interest in blockchain development in that industry—while the industry is a "best fit" vertically, "institutional caution may in many cases mitigate against early deployment."
Key Vertical Assessment Matrix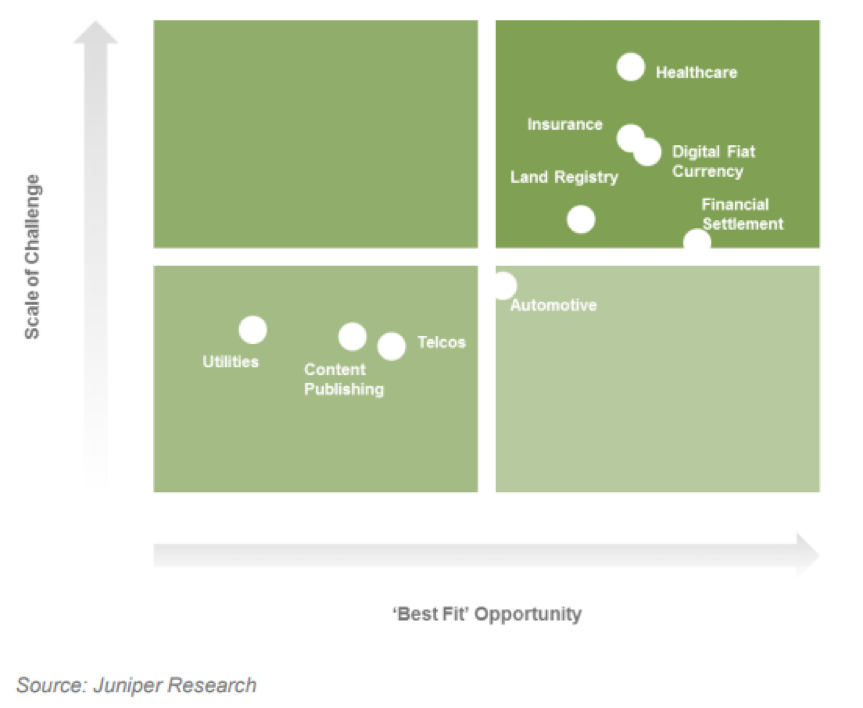 Measuring Data Innovation Across the
The Center for Data Innovation released a report that "reviews a series of indicators that rank states on the degree to which they have achieved the key enablers of success in the data economy, including the availability of high-value datasets, the creation of important technologies, and the development of human and business capital." The report analyzes 25 indicators (page 8) across three categories (data availability, digital infrastructure availability, and the size of the data professional community). Among the recommendations to state policymakers: states should take proactive steps to guarantee that data is and remains open and available for use, should enable the deployment of technology platforms that underpin success in the data economy, should support economic development efforts to bring data-driven innovations to existing industries, and should support data literacy in the classroom, among other areas. The top five states: Massachusetts, Washington, Maryland, California, and Delaware. The five lowest ranking states: South Carolina, Alabama, Louisiana, West Virginia, and Mississippi.
Data-Driven Innovation: Overall Rank of Each State

Source: The Center for Data Innovation
Some Headlines
Bitcoin and the Blockchain: The Chicago Board Options Exchange, the largest stock exchange in Europe and second largest in the U.S., announced a partnership with Gemini Trust. The partnership, pending regulatory review by the U.S. Commodity Futures Trading Commission, "provides Chicago Board Options Exchange, Incorporated (CBOE) and its affiliates with an exclusive global license to use Gemini's bitcoin market data for bitcoin derivatives and indices." In addition, "CBOE will have a multi-year exclusive global license permitting it to use Gemini's market data, including Gemini daily bitcoin auction values, in the creation of bitcoin derivatives products for listing and trading." Lastly, CoinDesk released a research database that tracks and provides analysis on blockchain token sale and initial coin offering movements.
Payments: India-based payments platform Paytm is entering the messaging services business with plans to unveil the platform at the end of this month. The platform will compete against WhatsApp, which has over 200 million monthly active users in India. Meanwhile, PayPal struck an agreement with Skype allowing Skype users in 22 countries to send peer-to-peer payments to friends and family through PayPal. Fiserv has increased its offer for UK-based payments platform Monitise to $98 million, while East Africa's largest financial institution, Kenya Commercial Bank, entered into a partnership with UnionPay International in an effort to boost digital payments in the East African region.
Online Finance: On the funding front, Kabbage received $250 million in investment from SoftBank Group, while Chinese peer-to-peer lending platform Dianrong raised $220 million from Singapore's sovereign fund GIC and other investors. Meanwhile, Prosper closed a $50 million round of funding, in a round that saw Prosper's value drop 70 percent to $550 million, Earnest is looking for a buyer, while OnDeck inked an extended partnership with JPMorgan for another four years. Lastly, interest in Innovative Finance ISAs in the UK has exceeded investment platforms expectations, according to a report.
On the equity crowdfunding front, NextGen Crowdfunding announced that total investor commitments in Title III equity crowdfunding campaigns in the U.S. have surpassed $50 million with the average amount raised from campaigns that have ended and met their fundraising goals totaling $300,000.
Robo-advisor: A proposed class action lawsuit was filed in an Illinois federal court against Morningstar and two retirement-focused subsidiaries of Prudential Financial Inc. The suit claims that the companies colluded in developing a robo-advisor that steered investors to investments that earned higher fees for Prudential.
Identity: The World Identity Network was launched last week with the key objective "to catalyze progress towards universal ID and robust, secure, digital identification systems using 21st-century technology solutions, such as the distributed ledger technology." The effort is being led by former World Bank official Mariana Dahan. The company is expected to collaborate with the BitFury Group, ConsenSys uPort, IOTA, the Sovrin Foundation, and the Secure Identity Alliance members.
Global Developments
Europe: The European Banking Authority identified six segments of the banking industry that will be impacted by FinTech development that could benefit from the authorization and sandboxing regimes. The segments are prudential risks for credit institutions, payment institutions and electronic money institutions, the impact of FinTech on banking business models, consumer protection and retail conduct, the impact of Fintech on financial resolution, and anti-money laundering.
Singapore: The Monetary Authority of Singapore announced the creation of a Payments Council that will promote the use of ePayments. Roughly 20 leaders from the banking, payment services, and business trade associations will make up the council. The council is another step in the Authority's broader push towards developing the PayNow digital payments program.
India: PayPal announced the launch of two Innovation Labs in Chennai and Bangalore. The facilities will focus on technologies that support the improvement of productivity, innovation, and education by capitalizing on India's local FinTech talent.
The Securities and Exchange Board of India (SEBI) formed a 10 member committee on financial and regulatory technologies. The Committee will advise SEBI on recent and medium trends in FinTech developments in securities markets around the world, solutions for widening a deepening India's securities market, approach and provide a framework for a regulatory sandbox to facilitate the adoption of FinTech and promote financial innovations, prepare India's securities market and regulatory frameworks on adoption of new FinTech solutions, whilst continuing to promote market integrity and consumer protection, among other areas of focus.
A multi-ministerial panel created by India's Finance Ministry has urged for the discontinuation in the use of cryptocurrencies. The panel further proposed that the government should regulate establishments and intermediaries that use digital currencies.
Indian company Paytm plans to launch a messaging service by the end of August to compete with WhatsApp. Paytm is seeking to increase users through incorporating messaging into its payment system.
China: According to a new report from Oliver Wyman, China may be the world leader in certain aspects of FinTech. Specifically, the report points to Alipay, Lufax and ZhongAn insurance as examples of innovative businesses that have incorporated FinTech into their models. The paper "explores the underlying value drivers of the fintech industry in China, and discusses how these drivers will change and how fintech companies, incumbents and non-financial services players should respond to these trends."
Indexed Growth of China FinTech Segments

Lastly, China is exploring different methods for overseeing risks embedded in internet finance. The People's Bank of China (PBOC) is seeking to improve its supervision of digital finance platforms by seeking input from local associations and industry specialists. In a recent step, the PBOC now requires all third-party institutions to channel transactions through a newly established clearing house called Nets Union Clearing Corp.
Lithuania: The Bank of Lithuania is creating a regulatory sandbox to test FinTech products. The central bank will oversee the companies' operations and offer consultation. "The plan is for it to be possible to apply certain alleviations to the testing area participants, agreed on with the regulator. For instance, companies would be subject to simplified establishment, licensing procedures; some supervisory requirements would temporarily not be applied. Should financial innovations pay off, companies would be able to start operating in normal conditions," according to the press release.
Korea: The Korean Democratic Party lawmaker Park Yong-Jin introduced an amendment to the Electronic Financial Transaction Act to create a regulatory framework for digital currencies. The amendment seeks to define digital currencies as "an instrument of exchange or a store of value" and enumerates five types of digital currency handlers: traders, dealers, brokers, issuers, and managers.
Chile: The governor of the Central Bank of Chile, Mario Marcel, stated that he believes central bank issued digital currencies may be years away from fruition. "[Central Bank Digital Currency (CBDC)] seems to lead inevitably to the replacement of the classical role of central banks at the top of a tiered liquidity system to that of a massive retailer, where deposit-taking may soon combine with loan-making. For this reason, the experiments with RSCoin at the Bank of England and CAD-Coin at the Bank of Canada take a very cautious approach, aiming at addressing technical issues before any definite step in such direction. This means that a real CBDC may still be many years away," he remarked.
Germany: Germany's largest Bitcoin exchange Bitcoin.de provided police with sensitive user data without a court order. According to a report, the exchange handed over sensitive data after pressure from police.
U.S.: Coin Center filed an amicus curiae brief opposing the IRS's request for Coinbase customer financial records. Coin Center argues that the IRS' summons would set a dangerous precedent for the security of Bitcoin users' private data. The Competitive Enterprise Institute and two digital currency advocacy groups supported Coinbase's challenge and offered separate motions.
A coalition of 60 organizations is pressing the Trump administration to change its position regarding the international entrepreneur rule. In a letter from the National Venture Capital Association, the group argues, "The International Entrepreneur Rule will allow the world's best entrepreneurs to create jobs in our country, rather than overseas where they will then compete with American workers and companies."
In a speech at the National Association of Real Estate Brokers, Federal Housing Finance Agency Director Mel Watt explained that a change in credit scoring before 2019 would be a serious mistake before the Common Securitization Platform is fully operational and the Enterprises implement the Single Security. "For this reason, any credit score model change would not go into effect before 2019 even if I announced a decision today."
Contrary to Mr. Watt's wishes, the Senate is moving forward with a bipartisan bill that would require Frannie Mae and Freddie Mac to use alternative credit scores. The bill is co-sponsored by Sens. Tim Scott (R-S.C.) and Mark Warner (D-Va.).
UK: The UK's New National Investment Fund is seeking to invest in British start-ups with the potential to become world-leading businesses. The new fund seeks to address a gap in venture capital investment.
The Financial Conduct Authority (FCA) published the outcomes of its review into high-cost credit. The review found that FCA regulation on short-term lending has provided substantial benefits to consumers. The review found that due to regulation, 760,000 borrowers are saving £150 million per year, and there has been a decrease in bankruptcies and financial distress.
The FCA is also preparing to launch a review of peer-to-peer lending with the goal of standardizing practices between platforms.
Lastly, a joint statement released after the UK-Brazil Economic and Financial Dialogue held in Brazil mentioned FinTech. According to the release, "Brazil and the U.K. agree to explore greater collaboration about the impact of technology and innovation on the financial sector. This includes facilitating discussions between the Brazilian Central Bank and the U.K. authorities to share relevant experience, including emerging trends and regulatory issues."
Malaysia: Malaysia's central bank expects to launch Project Greenback 2.0. Project Greenback aims to promote transparency and efficiency in the remittance market and reduce costs.
The Malaysia Digital Economy Corporation (MDEC) signed a Memorandum of Understanding (MoU) with the Entrepreneurs' Organization Malaysia Chapter earlier this month. The MoU addresses both parties' interests in developing digital finance in Malaysia.
Thailand: To further develop Thailand's digital economy, the government intends to establish an Internet of Things (IoT) Institute and a big data analytics center. The IoT center will be part of a digital park in Chon Buri province. In total, the government is planning on spending $30 million to build the digital park over the next year.
Switzerland: Nasdaq has signed a deal with the primary Swiss stock exchange to integrate Blockchain into its over-the-counter product services. This partnership represents a step towards Nasdaq commercializing its work with Blockchain technology.
UAE: The Abu Dhabi Global Market (ADGM) and KPMG launched a FinTech challenge for start-ups. Ten finalists will be selected to develop solutions to problems focused on investment management, financial inclusion, RegTech, trade finance, InsurTech, and private capital markets. ADGM also entered into FinTech partnerships with the Responsible Finance and Investment Foundation the Swiss Finance + Technology Association.
Australia: Senators Sam Dsatyari and Jane Hume are pushing the Reserve Bank of Australia to embrace Bitcoin as an official form of currency. The Senators are concerned that without moving towards embracing the digital currency, Australia could fall behind regional competitors in the financial services industry.
The Australian Strategic Policy Institute released a report canvassing the downsides of big-data analytics in national security. The think tank advises that policy makers understand the issues of data complexity, expectations, and algorithm opacity that inhibit big data from providing support to counter-terrorism and defense-related efforts.