Innovation in Camping
If there's anything that tests the viability of a marriage, it's camping. Especially with two children under the age of 4. Not only do you have to pack for what feels like an army, but you also have to improvise when, at the campsite, you realize you're missing some of the pieces to fully construct the tent. Despite a deflated-looking tent and frequent run-ins with black bears and deer, we all managed to make it back home somehow. But enough about me, let's get to the headlines. 
(Subscribe to FinTech in Focus to get it delivered straight to your inbox.)
The End of the Olympics, but not of FinTech
While I missed the closing ceremony of the Rio Olympics on Sunday night due to immediately falling asleep after arriving home from camping, I did want to share a few reports released since the beginning of this year that detail Brazil's FinTech landscape. For instance, there are more than 150 FinTech firms operating in Brazil, and a report from Nobiletec provides an overview of the country's FinTech ecosystem. Even while the Brazilian banking system remains highly concentrated—the six leading banks account for roughly 80 percent of overall bank assets—nearly three-quarters of Brazilians use one or more FinTech firms. (Popular FinTech startups can be viewed here.) In particular, and as described further in the recent U.S. Department of Commerce International Trade Administration report, Brazil ranks high in terms of its payments ecosystem, accounting for roughly 60 percent of the total payments market in Latin America.  
Innovation Worldwide
The World Intellectual Property Organization, Cornell University and INSEAD published the Global Innovation Index 2016, which ranks 128 countries on their innovation performance based on 82 indicators. The top five countries were Switzerland, Sweden, the U.K., the U.S. and Finland. The report notes that "a multipolar world of research and innovation has emerged," with the majority of activities concentrated in high-income and select middle-income economies. "The divide between the group of upper-middle-income economies and the group of high-income economies is large, especially in the institutions, human capital and research, infrastructure, and creative outputs pillars," the report says. After the report's release, India's Commerce and Industry Ministry announced it would set up a team of experts to examine the issues identified in the report and provide suggestions for further improvement.
Innovation divide bridged: China reaches the top 25
Source: Global Innovation Index 2016
Payments & Lending Update
Square is in the process of hiring personnel for positions in Europe. Meanwhile, Alibaba's online payments platform, Alipay, has teamed up with French-based payments-processing firm Ingenico to offer its services in Europe, where approximately 10 million Chinese tourists visit each year. The payments platform is also looking to enter the British market in October. Separately, China's UnionPay launched its QuickPass mobile-payments system in Canada, where 70,000 merchants currently accept UnionPay.
On the lending front, Goldman Sachs unveiled the name of its consumer online-lending operation; consumer lender LendUp raised $50 million and announced that it would expand its credit card business; and Avant, despite recent turbulence at the firm, closed a $225 million asset-backed securitization with JP Morgan, Morgan Stanley and Credit Suisse.
Update on Government Efforts
Speaking of payments, the Monetary Authority of Singapore published a report titled "Singapore Payments Roadmap," which provides an in-depth review of Singapore's payments system and strategies to promote an electronic-payments regime through 2020 and beyond. According to MAS Managing Director Ravi Menon, "MAS is considering the formation of a broad-based Payments Council that will include senior representation from both providers and users of payments systems" to help "align payment initiatives with national strategies and public interest." Around the time of the release, PayPal officially launched its Innovation Lab in Singapore.
The U.S. Consumer Financial Protection Bureau announced the appointment of new consumer experts to its Consumer Advisory Board, Community Bank Advisory Council, Credit Union Advisory Council and Academic Research Council. Appointees to the Consumer Advisory Board include Arjan Schutte from Core Innovation Capital and Raul Vazquez from Oportun.
Blockchain Developments
Apparently the demand for blockchain experts is quite high, as Japanese financial firms and the Bank of England are having trouble finding talent. Meanwhile, as UBS says goodbye to Alex Batlin, who formerly led the firm's blockchain and virtual-currency initiatives, Capital One hired Elijah Alper, formerly with WilmerHale, for its team focused on FinTech and blockchain.
These developments come as multiple reports downplay the hype surrounding blockchain. According to Ripple Labs' chief technology officer, "blockchains are a pain to work with…. The fact that blockchain has been largely ignored by major tech companies and embraced by the financial industry is partly because that industry has a relatively high tolerance for arcane and complex systems." Separately, Gartner published a report finding that blockchain is nearing the peak of the hype cycle.
You are now entering the hype cycle
 
Source: 'Hype Cycle for Emerging Technologies 2016'
Q2 FinTech Investment in Review
KPMG and CB Insights published their "Pulse of FinTech" report for the second quarter. They found that investment in venture-capital-backed FinTech firms was down 24 percent in the U.S. and nearly 50 percent globally. Overall FinTech investment (including from angels, private equity firms, mutual funds and hedge funds) totaled $9.4 billion for the quarter, with Ant Financial making up nearly half of that ($4.5 billion). Five of the top 10 venture capital FinTech deals in 2016 came from Asia. Of note: Even with Brexit, U.K. FinTech investment and deals largely stayed the same, though it will be interesting to see third quarter results given that the vote took place days before the second quarter ended.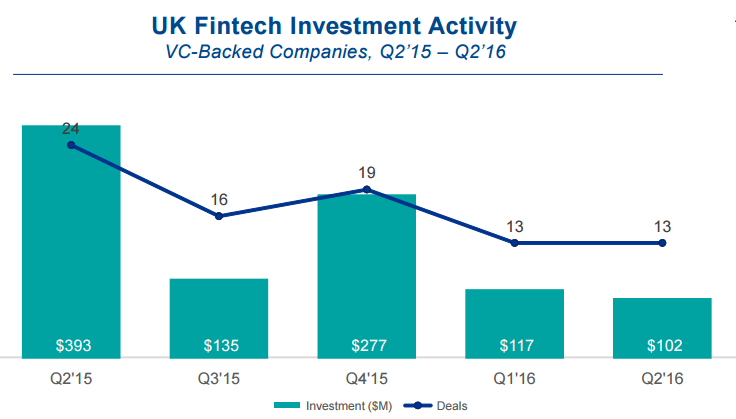 Source: 'Pulse of FinTech' Q2 2016